26 Jun

Host Your Party at Classic Bowl; Park Ridge Adult Birthday Party Venue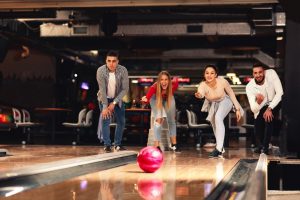 Do you know someone who is turning 40 this summer? Maybe there's a big anniversary coming up? Maybe you're just happy that the COVID-19 restrictions are coming to an end? In any case, if you're looking to celebrate, you should host your adult party here at Classic Bowl in Morton Grove, Illinois.
Our facility has a variety of activities for our guests to participate in, which is what makes it a great spot for all kinds of events. Read below for more information on what Classic Bowl in Morton Grove has to offer.
Enjoy Our Lounge
Are you hoping to have a relatively quiet and laid-back party? If so, you and your group may want to congregate in our lounge. It has several features, including the following:
A Bar
Looking to enjoy a few alcoholic beverages? If you are over the legal age, you'll be able to do so in our lounge bar. We have drink specials every day of the week, allowing you and the others in your party to get a great deal. Whether you prefer beer or liquor, we can accommodate you.
A Restaurant
Not only does our lounge contain a bar, but a restaurant as well. It's called Boba Burger, and it serves a variety of classic American entrees. These include hamburgers, chicken sandwiches, hotdogs, and more. We also serve salad, onion rings, and a variety of other dishes.
Whether you're looking for a small snack or an entire meal, Boba Burger has you covered. Stop in at any time.
Television
Our lounge has TVs mounted all throughout its confines. We're constantly displaying a variety of programming, from sports to TV shows to movies to the news and more. You are more than welcome to sit back, have a few drinks, watch some TV with your party guests, and have a great time.
Partake In an Array of Activities
If you're looking to keep things lively during your party, you can partake in one or more of our featured activities. These include the following:
Bowling
Our facility is equipped with 38 bowling lanes, which all feature electronic scoring machines and bumper capabilities. Whether you're looking to bowl competitively or just enjoy a few recreational games, we can accommodate you. If you and your party want to spend some time bowling, please be sure to call ahead to reserve your lanes.
Billiards
Do you prefer billiards over bowling? If so, you'll be glad to know that we have billiards tables located all throughout our facility. Whether you're a competitive or recreational player, you will be able to play as many games as you'd like.
Video Gaming Parlor
Interested in video gaming? If so, you can have a great time at our video gaming parlor. With a variety of options, there's sure to be something you will enjoy.
An Excitement-filled Atmosphere
Here at Classic Bowl, we go to great lengths to ensure that our guests have as good a time as possible. We're not just a run-of-the-mill bowling alley. We're a center for fun, backed by an attractive lighting system, a high-quality sound system, and so much more.
At our facility, you can sing, dance, and let loose. When you host your party at Classic Bowl, you won't be disappointed.
Host Your Park Ridge Adult Birthday Party Venue at Classic Bowl
Are you ready to party at Classic Bowl in Morton Grove, Illinois? If so, you should stop by at your leisure. We're open every day of the week.
Want to schedule a more formal party with us? Interested in renting out our banquet room for an event? We'd love to get something down in writing and make it official. Contact us today to get the process started.