26 Oct

Have Fun During the Holidays at Classic Bowl: The Best Bowling Alley in the Glenview, Illinois Area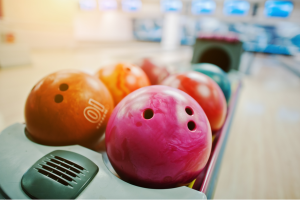 Hoping to get your friends and family together on Halloween? Maybe you're looking for a place to celebrate Thanksgiving or Christmas? If so, and if you're looking for the best bowling alley in the Glenview, Illinois area, look no further than Classic Bowl.
Whether you're organizing a low-key gathering or a large party, we can accommodate groups of all sizes. Read below to learn more about our bowling alley.
Fun Activities to Enjoy
Classic Bowl is known as the best bowling alley in the Elmhurst, Illinois area, but we are so much more than that. In addition to bowling, our facility offers a wide variety of activities, which include:
Watch Holiday-themed Programming on Our Array of TVs
Maybe you're hoping to catch the Macy's Thanksgiving Day Parade? Perhaps you're looking to watch a classic Christmas movie? Whatever the case may be, if you're hoping to get out and watch some holiday-themed programming, our lounge is the place to be.
We have several large HDTVs available throughout our lounge. We also offer a wide range of channels, all of which can be changed as necessary.
Enjoy Some Alcoholic Beverages
If you're like a lot of people, holiday celebrations typically call for a few drinks. If that's the case, our lounge bar will suit you well. We serve everything from domestic beer to imported beer to craft beer to liquor drinks and everything in between. With different drink specials each day of the week, you and your group can get a great deal.
Enjoy a Meal
Cooking at home for the holidays might be a common tradition for some, but it's not a necessity. You could start a new tradition by enjoying a meal here at Classic Bowl.
Our in-lounge restaurant, Boba Burger, serves a wide variety of foods — from burgers to chicken fingers to hotdogs to jalapeno poppers and more. If you and your group are hungry, there's sure to be something you'll enjoy.
Bowl a Few Frames
As the premier bowling alley in the Elmhurst area, our facility is stocked with 38 state-of-the-art bowling lanes. Each of these lanes is equipped with automatic scoring computers, as well as bumper capabilities for bowlers who are eight years of younger. As such, regardless of your group's experience level, you can take part in as many bowling matches as you wish.
We offer shoe rentals, and we also have a wide variety of bowling balls for our visitors to use. Don't forget to call ahead to reserve your lanes!
Video Gaming
When you visit the best bowling alley in the Elmhurst area, there is no shortage of activities to enjoy. In addition to our bowling lanes, we also offer video gaming for those who are 21 years or older. Located inside our lounge, video gaming can be an exciting activity while you take a break from bowling.
Shoot Some Pool
Another activity you might be interested in is pool. We have multiple pool tables located inside our billiards room, which are perfect for people of all skill levels.
Enjoy the Lively Environment
As the most exciting bowling alley in the Elmhurst area, we go out of our way to create a fun and lively environment for our guests. Not only do we play music through our top-notch sound system at certain times of the day, but we also have a modern light show that goes with it. You can feel free to dance, sing, and have a great time at Classic Bowl.
Visit the Best Bowling Alley in the Elmhurst, Illinois Area
You and your family don't spend the holidays bored at home this year. Come celebrate the right way by visiting the best bowling alley in the Elmhurst, Illinois area: Classic Bowl.
Our facility is open from 9 AM to 12 AM on Sundays through Thursdays, and from 9 AM to 1 AM on Fridays and Saturdays. Any questions? Contact us today.