26 Jan

Have Your Niles Corporate Event at Classic Bowl in Morton Grove, Illinois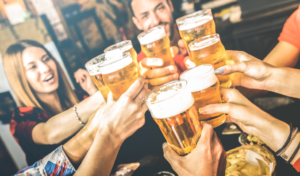 Maybe your company is putting on a charity event? Perhaps you're arranging an out-of-work party for your employees? If so, and if you need a great venue in Morton Grove, you should consider hosting your event at Classic Bowl.
Our facility has tons to offer, including food, drinks, and a range of activities. Curious as to the specifics of our facility? Read below for more information!
Reserve Our Banquet Room
If your event is going to be a particularly big one, you might consider reserving our banquet room. Sectioned off from the rest of our facility, it provides a large and quiet space where you and your many guests can congregate.
Kick Back in Our Lounge
Hoping to have a loose and laid-back event? If so, you should spend some time in our lounge. Characterized by delicious food, affordable drink deals, and ample TVs, it has everything needed for your guests to kick back and have a good time.
Have a Meal
Looking to treat event guests to a meal? If so, you might consider visiting our restaurant, Boba Burger. Serving everything from hamburgers, to chicken tenders, to fries, and more, it accommodates tastes of all kinds.
Grab Some Drinks
Want to unwind and enjoy a few adult beverages? Our lounge bar has you covered. Providing drink specials every day of the week, it will ensure that your many guests can drink as you please without spending a fortune. Like imported beer? Like domestic beer? Like craft beer? Like liquor drinks? In any case, you'll be accommodated.
Watch Some TV
If you're really looking for a laid-back time, you could watch some TV. Our lounge sports an array of HDTVs, displaying everything from sports, to movies, to TV shows, and more. Gather your guests around the television and indulge in some interesting conversation!
Engage in an Array of Activities
Need an activity to center your event around? We have you covered. We offer a range of activities, including:
Bowling
Our facility is equipped with dozens of bowling lanes, all of which have the option for bumpers and automatic scoring computers. Whether your guests are recreational bowlers or like to bowl competitively, you will be accommodated. Contact us now to reserve lanes for your event!
Pool
Not interested in bowling? Like to shoot pool? If so, Classic Bowl has you covered. We have billiards tables scattered throughout our facility, allowing for both competitive and recreational games. Regardless of your group's experience level, they're sure to have a great time.
Electronic Slots
Do your guests like to gamble? If so, they might consider playing our electronic slot machines. Available to those 21 and older, they provide the opportunity to win a bit of extra spending cash.
Dancing
Hoping to get everyone up and dancing? If so, our facility is the place to be. We've got music playing and lights shining at all hours of the day. Whether your guests like to dance, sing, tap their toes to the beat, or otherwise, they will be in the perfect atmosphere to do so. Get in and get moving as soon as possible!
Make Classic Bowl Your Official Venue For Niles Corporate Events and Parties
Is Classic Bowl the right venue for your corporate event? If so, and if you're ready to make it official, we'd love to get it down in writing.
We are located at 8530 Waukegan Road, Morton Grove, Illinois 60053. Our facility is open from 9:00 AM to 2:00 AM on Sundays through Fridays and from 9:00 AM to 3:00 AM on Saturdays.
Have any questions? Contact us today!