26 Aug

Celebrate Your Des Plaines Holiday Office Party at Classic Bowl: The Best Bowling Alley in the Des Plaines Area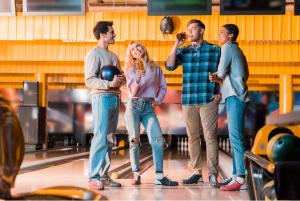 Do you like celebrating the holidays? Are you hoping to plan a holiday celebration for your Des Plaines coworkers? If so, you should consider hosting it at Classic Bowl, the premier bowling alley in the Des Plaines, Illinois area.
Our facility is perfectly equipped to host all types of Des Plaines area holiday parties — whether they're for Labor Day, Thanksgiving, Christmas, Hanukkah, or otherwise. You can learn more about our facility and the activities we have to offer by reading below.
Bowling
What better activity to bring your family and friends together than bowling? Bowling is great for people of all ages and experience levels, and it can be played both recreationally and competitively. Even if your group isn't made up of the most skilled bowlers, you can still have a blast.
Our 38 bowling lanes are each equipped with electronic scoring computers, and bumpers for those who are eight years or younger. Don't forget to call ahead and reserve your lanes!
Billiards
As the go-to bowling alley in the Des Plaines area, it's no secret that bowling is our prime attraction. However, it's not the only thing we have to offer. Our facility also has multiple pool tables, allowing guests to shoot pool for as long as they wish. Regardless of your skill or experience level, you will be able to get a few games in.
Video Gaming
Another great way to celebrate is to enjoy some video gaming, which can be found inside our bar. However, you must be 21 years or older to play.
Order Alcoholic Beverages
If you're looking to celebrate the holidays with a few alcoholic beverages, you can do so here at Classic Bowl. Our in-lounge bar is fully stocked with domestic beer, imported beer, craft beer, and liquor, so there's sure to be something for you and your group to enjoy. Offering different drink specials every day of the week, we do everything we can to make sure our guests get a great deal.
Order Food
Maybe you're hoping to enjoy a meal with your group? Perhaps you're just looking for a few snacks while you bowl? In either case, our in-lounge restaurant, Boba Burger, will serve you well. Its menu includes everything from burgers to chicken tenders to fries to jalapeno poppers to hot dogs to salads and more. If you get hungry, you can stop in, grab a bite to eat, and celebrate the holidays the right way!
Watch TV
Another option is to gather around one of our many HDTVs and take in some television programming. From sporting events to holiday parades to movies to TV shows and more, you can see it all. Kick back, congregate with your friends and family, and have a great time.
Rent Out Our Banquet Room
Are you looking to organize a more formal party? As the largest bowling alley in the Des Plaines area, our facility has a banquet room that you can rent out. This will separate your group from our other guests, allowing you to celebrate on your own terms. Contact us today to schedule your party.
Ready to Organize a Des Plaines Holiday Party? Host It at the Top-Rated Bowling Alley in the Des Plaines Area
Are you ready to celebrate the holidays at a Des Plaines area bowling alley? If so, we here at Classic Bowl are ready to accommodate you.
We are located at 8530 Waukegan Road in Morton Grove, Illinois 60053. Our hours are 9 AM to 12 AM on Sundays through Thursdays, and 9 AM to 1 AM on Friday and Saturday.
Contact us today to reserve your spot.