26 May

Treat Your Lincolnwood Employees to a Day of Recognition at Classic Bowl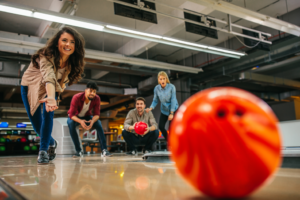 Looking for a way to demonstrate your appreciation for your employees? If so, you could arrange a party at Classic Bowl in Morton Grove, Illinois.
Our facility is perfectly equipped to host employee appreciation parties, offering a laid-back lounge, a top-notch restaurant, and all the bowling one could ever desire.
Interested in learning more about our facility and what we have to offer? Then read on!
Take Advantage of Our Lounge
Looking to treat your employees to a little laid-back fun? If so, our lounge is the place to be. Featuring a top-notch restaurant, a fully stocked bar, and a series of HDTVs, it has everything needed for a group of people to have a great time.
Enjoy Drinks
Work can be stressful. Why not help your employees to relieve some of the stress by treating them to drinks at our bar? Offering drink specials every day of the week, we have a huge selection to choose from. Whether your employees prefer beer or liquor drinks, we can accommodate them.
Eat a Meal
Perhaps you'd like to treat your employees to a meal? If this is the case, you should stop by our in-house restaurant, Boba Burger. Offering a varied selection of entrees as well as a bevy of tasty appetizers, it's sure to have something that you and your employees will enjoy.
Take in Some TV
Not only do we offer food and drinks, but television as well. Featuring a vast array of HDTVs, we show a variety of programs all throughout the day. If your employees would like to watch a TV show, a movie, or a sporting event, they will be covered.
No Shortage of Fun Activities
Here at Classic Bowl, fun is our business. We offer a range of activities for our guests to participate in. While at Classic Bowl you can:
Partake in Bowling
Our facility is equipped with a total of 38 bowling lanes. Each of these lanes is equipped with bumpers and automatic scoring machines, making the game easy for even the most inexperienced bowlers. Regardless of the skill levels of your employees, they're sure to have a great time. Contact us now to reserve your lanes. 
Breathe in the Fun Atmosphere
If there's one thing you can say about Classic bowl, it's that we're not boring. We go out of our way to create a fun and exciting atmosphere for our guests. With a top-of-the-line light system and a top-tier sound system, our facility is centered around entertainment. Your employees can laugh, sing, dance, and have a great time.
Rent Out Our Party Room
Hoping to separate your party from the action a bit? If so, you might consider renting out our party room. This room is specifically designed to host large parties and can act as a central meeting spot for you and your employees. You can rent out our party room by contacting us today!
Host Your Next Lincolnwood Office Party or Employee Appreciation Event at Classic Bowl!
Are you ready to host a Lincolnwood office party at Classic Bowl? Perhaps you're interested in renting out our party room? Regardless, Classic Bowl is ready to welcome your group with open arms.
Our facility is open from 9:00 AM to 2:00 AM on Sundays through Fridays, and 9:00 AM to 3:00 AM on Saturdays.
Have any questions? Contact us now! Ready to stop by? We're located at 8530 Waukegan Road, Morton Grove, Illinois 60053.