26 Nov

Have Fun with Your Co-workers at Classic Bowl in The Niles, Illinois Area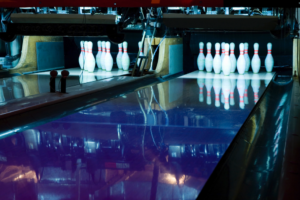 Are you hoping to get the office together outside of work? Looking to engage in some fun activities? If so, Classic Bowl in the Niles, Illinois area is the place to be.
Our facility has everything needed to keep your group entertained for hours. With a wide variety of activities at your disposal, you and your co-workers are sure to have a great time.
Wondering what there is to do at our facility? Read on to find out!
Enjoy Some Food
If you and your coworkers are stopping in after work, you're almost undoubtedly looking to eat some food. Fortunately, our in-house restaurant, Boba Burger, has all the food you need.
Whether you're looking for an entrée, an appetizer, a side, or a dessert, Boba Burger will be able to accommodate you. Some examples of our food include burgers, chicken tenders, chili fries, and hotdogs, to name just a few.
Take Advantage of Some Drink Deals
Sometimes, there's nothing better than a drink after a long day at work. If your office is in a drinking mood, you should stop by our bar.
It doesn't matter whether it's a Thursday, a Saturday, or any other day of the week—when you come into Classic Bowl, you will have drink specials available to you. Our specials vary, but they cover everything from domestic beer, to imported beer, to craft beer, to liquor, and more. Regardless of the tastes and preferences of you and your co-workers, you'll all be able to drink affordably.
Get Your Bowl On
Are you interested in bowling? If so, you won't have any problem doing so at Classic Bowl. Regardless of your co-workers' skill and experience levels, we can accommodate you.
We provide 38 bowling lanes, each of which is equipped with bumpers and automatic scoring computers. Give us a call anytime to reserve your lanes!
Enjoy Some Video Gaming
Another option for you and your co-workers is to enjoy some video gaming. We have video games located within our facility, allowing your group to play as desired.
Are you the type that likes to live dangerously? If so, you should consider playing our electronic slot machines. They allow for low stakes gambling for anyone who is 21 years or older.
Participate in Some Pool
Perhaps a game of pool is more to your liking? If so, you will be accommodated. We have pool tables in our facility, allowing for our guests to participate in both competitive and recreational games. Regardless of whether you're an experienced player or a complete novice, you're sure to have a great time here.
Take in Our Exciting Atmosphere
Maybe you're just looking for a high-energy atmosphere after a long day cooped up at work? Again, our facility can accommodate you. Characterized by upbeat music, state-of-the-art lighting, and non-stop human interaction, our facility has everything needed for an exciting experience.
Whether you want to tap your toe to the beat, get up and dance, sing your heart out, or otherwise, you'll be more than welcome to at Classic Bowl. You certainly won't be the only one doing so!
Bring the Office to Classic Bowl Today!
Looking to bowl? Hoping to watch a big sporting event on TV? Maybe you're just wanting to grab some food and drinks? Whatever the case may be, we here at Classic Bowl are ready to accommodate you.
We are located at 8530 Waukegan Road, Morton Grove, Illinois 60053. Our hours are 9:00 AM to 2:00 AM on Sundays through Fridays and from 9:00 AM to 3:00 AM on Saturdays.
Have any questions for us? Contact us now!