26 Feb

Celebrate Your Child's Birthday at Classic Bowl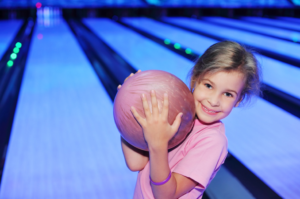 For kids, birthdays are momentous occasions. They're not something to be written off and quickly forgotten about. Instead, they're to be celebrated to the fullest.
Is your son or daughter about to celebrate a birthday? Looking for a place to host the occasion? If so, you should consider having a birthday party here at Classic Bowl in Morton Grove, Illinois.
We have all types of activities for kids to partake in, and even offer party packages designed for kids' birthday get-togethers. Learn more about our children's parties by reading below!
Take Advantage of Our Party Packages
Here at Classic Bowl, we offer party packages to help set kids' birthday parties off right. These packages include everything from food, to drinks, to gifts, to bowling, and more. We can provide everything you need to have a successful party through one of our packages.
We have two packages for you to choose from, each of which will be reviewed below.
Spectacular Spare Package
The Spectacular Spare Package is the cheapest party package we have to offer. Available for $16.95 per child, it requires a group of at least 10 members.
With this package, each child will receive 1 hour of bowling, free shoe rentals, pitchers of beverages, and a meal. Children have their choice of three meals: chicken tenders and fries, two slices of pizza, or a hot dog and fries.
You'll also get to spend an hour in our designated party room where a bouquet of balloons will be waiting for the birthday boy or girl.
Smashing Strike Package
The Smashing Strike package has everything that the Spectacular Spare package has to offer, but even more. In addition to the benefits reviewed above, it also comes with a birthday cake, goody bags, and bowling coupons.
Also, when you sign up for the Smashing Strike package, the birthday kid will receive a full-sized Classic Bowl bowling pin to take home.
Fun for All
It's difficult to walk into our facility and not have at least a little bit of fun. After all, we have plenty of activities for our customers to partake in. Kids and parents who come to our facility can enjoy:
Bowling
Sporting 38 bowling lanes, we accommodate parties of all sizes. Each of our lanes is equipped with top-of-the-line scoring systems, making it easy for kids to keep track of their score. Possessing bumper capabilities in each of our lanes, we can make bowling fun for all ages and skill levels.
Entertainment
Featuring a top-notch speaker system and a state-of-the-art lighting system, we are always in entertainment mode. The kids at your party shouldn't have any trouble finding a good time.
Plentiful Food and Drink
Our facility serves a wide variety of food and drinks, and has everything that you could ever need for a kids party. Whether you're getting it through one of our party packages or directly from our lounge, we will be able to accommodate you. We can guarantee that you'll be well-served during the duration of your party.
Schedule Your Kids Party Today!
Do you think a bowling party is right for your child? Ready to get your party scheduled? If so, we would love to sign you up.
You can schedule your party by calling us at (847) 965-5300, or by emailing us at this link. We're open from 9:00 AM to 2:00 AM Sunday through Friday, and from 9:00 AM to 3:00 AM on Saturday. We look forward to hosting you!