26 Dec

Bring the Family to Classic Bowl in Morton Grove, for a Day or Night of Family Fun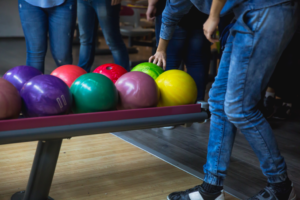 Are you and your family tired of being cooped up in the house? Looking to get out and have a little fun together? If so, you should stop by Classic Bowl in Morton Grove, Illinois.
Our facility has tons to offer, and it's practically designed for family fun in Morton Grove. Wondering what you can do at Classic Bowl? Read on to find out!
Take Advantage of Our Lounge
Hoping to have a fun evening with the family? Our lounge is the place to be. Offering delicious food, ample drinks, and a number of TVs for entertainment, it's the ideal place to sit back and relax for a while. In our lounge, you can:
Eat a Meal
Maybe you're looking to enjoy a nice meal? Perhaps an appetizer? Whatever the case may be, our lounge restaurant, Boba Burger, has you covered. Serving everything from hamburgers, to chicken tenders, to salads, and more, Boba Burger is a solid choice for both lunch and dinner.
Enjoy Some Drinks
Looking to enjoy some adult beverages with your brothers, sisters, or family friends? You can do just that in our lounge. Our lounge bar serves everything from domestic beer, to craft beer, to imported beer, to liquor, and more, and all at an affordable price. Offering drink specials every day of the week, you'll have no problem ordering affordable drinks.
Reap the Benefits of Our HDTVs
Hoping to catch a TV show? Maybe there's a football game you're looking to watch? You won't have any trouble doing so in our lounge. Sporting a lineup of HDTVs, we play everything from movies, to television programs, to sporting events, and more.
Heighten Your Experience
Maybe you want to take the experience up a notch? If so, our facility has a number of activities that can help you to do so. At our facility, you can:
Bowl a Few Games
Are you and the family hoping to bowl a few frames? You can bowl as many as you want here at Classic Bowl. Our facility is welcoming to both competitive and recreational bowlers, offering bumpers and automatic scoring machines at each of our lanes.
Whether you're looking to have some laid-back fun or go toe-to-toe with your family, you will be accommodated. Call ahead to reserve your lanes!
Shoot Pool
Maybe bowling isn't your family's thing? Perhaps you're more of a billiards family? Classic Bowl has you covered. We have billiards tables scattered all throughout our facility, allowing our guests to participate in both competitive and recreational games. Stop in and play today!
Participate in Some Video Gaming
Is your family over the age of 21? Looking to participate in some low-stakes gambling? If so, you can give our video gaming machines a try. While they won't allow you to retire early, they will enable you to win a little spending cash.
Dance the Night Away
Ready to get up and get moving? You won't have much trouble doing so at our facility. We play music at all hours of the day, and we have a top-of-the-line light show to go with it. It's the ideal atmosphere for singing, dancing, and good old-fashioned family fun.
Stop by Classic Bowl Today for Family Fun in Morton Grove
Ready to bring your family into Classic Bowl in Morton Grove for some fun family activities? Whether you're dropping in for a meal, a drink, or a game of bowling, our team will welcome you with open arms.
Our facility is located at 8530 Waukegan Road, Morton Grove, Illinois 60053. We're open from 9:00 AM to 2:00 AM on Sundays through Fridays and from 9:00 AM to 3:00 AM on Saturdays.
Any questions for our staff? Contact us today!