26 Nov

Host a Holiday Party at Classic Bowl: The Top-Rated Holiday Party Venue in the Lincolnwood, Illinois Area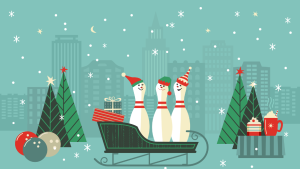 Christmas and New Year are just around the corner, which means there's no better time to schedule a holiday party than right now. Are you looking for the right venue for your party? If so, you should consider hosting it at Classic Bowl: the top-rated holiday party venue in the Lincolnwood, Illinois area.
Our facility is perfectly equipped to host holiday parties of all sizes. Whether you want to have your party in our lounge or around a table next to a bowling lane, you will be accommodated. Read below to learn about what our venue has to offer:
Hang Out in Our Lounge
If you're just looking to hang out and chat with your group, there's no better place to do it than in our lounge. It has a lot to offer — from food to drinks to televisions and more.
Food
Looking to grab a snack or an appetizer? Maybe you want to enjoy an entree? In either case, our lounge restaurant, Boba Burger, will serve you well. It offers up a varied menu and serves hamburgers, chicken sandwiches, hot dogs, and more. Regardless of your preferences, you're sure to find something you can enjoy.
Beverages
Our lounge bar serves both alcoholic and non-alcoholic beverages. As far as alcoholic beverages go, we serve everything from domestic beers to imported beers to craft beers to liquor drinks and more.
HDTVs
Hoping to watch a holiday parade? Maybe you want to catch A Christmas Story for the hundredth time? Perhaps there's a sporting event you want to watch? Regardless, you can watch it on one of our many HDTVs.
We have televisions set up all throughout our lounge, which can be changed to essentially any programming you're hoping to watch. Just let us know your preferences and we'll be happy to change the channels as needed.
Video Gaming
We also offer video gaming options in our lounge for those who are over the age of 21. We have a wide selection of gaming options to choose from, so regardless of your preferences, we're sure to have something that will keep you entertained.
Indulge in Some Activities
Do you want to plan a holiday party that revolves around an activity of some kind? If so, Classic Bowl has you covered. As the top-rated holiday party venue in the Lincolnwood, Illinois area, we offer a variety of activities for our guests to partake in. Some of our most popular activities include the following:
Bowling
Bowling is our top attraction here at Classic Bowl. Our facility contains 38 state-of-the-art bowling lanes. Each of our lanes sports an electronic scoring computer, as well as bumper capabilities for those who are eight years old or younger.
Interested in bowling at Classic Bowl? Don't forget to call us ahead of time to reserve your lanes.
Billiards
Along with bowling, we also have a billiards area in our facility. Our billiards tables are available to players of all experience levels. Whether you're just looking for some fun or want to play competitively, you will be able to play for as long as you'd like.
Enjoying the Vibe
Maybe you just want to sit back and enjoy the fun vibe? If so, we've got you covered. We go out of our way to create a fun atmosphere for our guests, playing music through our top-of-the-line speaker system at certain hours of the night, which is accompanied by a light show. You and your group can sing, dance, and immerse yourself in the exciting environment.
Looking for the Top-Rated Holiday Party Venue in the Lincolnwood, Illinois Area?
Are you ready to plan your holiday party with your friends, family, or co-workers? If so, and if you're looking to host it at the top-rated holiday party venue in the Lincolnwood, Illinois area, look no further than Classic Bowl.
Have any questions for us? Contact us today at (847) 965-5300 to get started.