26 Sep

Ready to Watch Monday Night Football at Classic Bowl in Morton Grove, IL?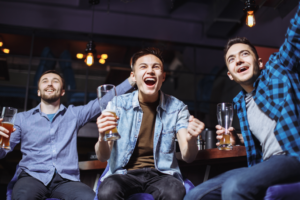 At last, the 2019 NFL season is underway. After 7 months of dormancy, we are able to watch the National Football League once again. Looking for a venue where you can catch some Monday Night Football games? If so, you should consider dropping by Classic Bowl in Morton Grove, IL.
Our facility is the perfect place to catch a game, offering not only an array of HDTVs, but a wide range of other fun activities as well. Interested in learning more about our facility? Then read below!
Kick Your Feet Up in Our Lounge
Our lounge is ideally equipped for the viewing of a football game. Offering top-notch food, affordable drinks, and more than enough TVs to go around, it's a great place to kick your feet up and enjoy the game.
Enjoy All Kinds of Food
Who doesn't enjoy a bite to eat while watching the game? Football and food are practically go hand in hand. Fortunately, when watching the game in our lounge, you'll have a bevy of food options available to you. Our in-house restaurant, Boba Burger, serves entrees and appetizers for all tastes, ensuring that there will be something you'll enjoy.
Reap the Benefits of Our Drink Specials
For some football fans, there's no better way to enjoy watching a football game than with a bit of alcohol. We understand this, and we do everything we can to make drinks affordable for our customers. Not only do we provide deals on domestic, craft, and imported beers, but on liquor as well. In essence, regardless of your alcohol preferences, we'll have you covered.
Take Advantage of a Lineup of HDTVs
Lined with HDTVs, our lounge offers terrific views of each and every game being broadcasted. On Monday nights, we prioritize Monday Night Football, ensuring that everyone in the building can keep up with the game.
Enjoy Some Additional Activities
If you're looking to enhance your viewing experience, you might consider participating in another activity while the game is on. We offer a number of activities for our visitors to partake in, including the following.
Bowling
Interested in bowling a few frames? If so, we can accommodate you. Our facility is equipped with a number of bowling lanes, allowing our visitors to bowl and watch football simultaneously. You won't have to worry about missing the game. Just roll your ball between plays and you'll be able to enjoy the whole game.
Want to make sure that you get a lane? Contact us now to make a reservation.
Billiards
Not into bowling? Is billiards more to your preference? If so, you won't have any trouble getting a few games in. There are pool tables scattered all throughout our facility, allowing you to participate in both competitive and recreational games. You can take your shot, watch a play of the football game, and repeat.
Video Gaming
Maybe billiards and bowling are beyond your interests? Perhaps you're more into gaming? If so, our facility is well-equipped to accommodate you, because we have video gaming for you to enjoy in our lounge. In essence, when halftime rolls around, you'll have no trouble keeping busy.
Stop by Classic Bowl Today!
Here at Classic Bowl, we aim to make Monday Night Football an exceptional experience. If you're looking to get in on the experience, we'd be more than happy to have you.
Interested in stopping by? Our facility is located at 8530 Waukegan Road, Morton Grove, Illinois 60053, and is open from 9:00 AM to 2:00 AM on Mondays.
Any questions? Contact us now!