26 Dec

Celebrate the Holidays at Classic Bowl: The Premier Party Venue in the Wilmette, Illinois Area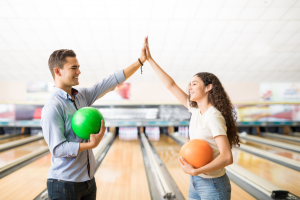 Looking for something fun to do with your family and friends over the holidays? If so, and if you're looking for a venue where you can have a great time, you should consider going to Classic Bowl: the premier party venue in the Wilmette, Illinois area.
Our center offers several different activities for people of all ages to enjoy. Are you curious as to what these activities include? We're going to review them below.
Enjoy Our Lounge
A holiday party doesn't have to be a non-stop celebration. It can be a laid-back good time as well. If you're aiming for the latter, our lounge is a great place to spend some time. In our lounge, you can:
Have Some Drinks
Many people like to enjoy a few alcoholic beverages during the holidays. If you're hoping to order some drinks during your party, our lounge bar will serve you well. As the premier party venue in the Wilmette, Illinois area, our bar serves domestic beers, imported beers, craft beers, and liquor drinks. Offering different drink specials most days of the week, it's a great place to get a great deal.
Eat a Meal
The holidays are great for enjoying food with your loved ones. Are you hoping to order some food during your party? Fortunately, you can do so at our in-house restaurant, Boba Burger. From appetizers to entrees to desserts and more, we can accommodate your group.
Watch Some TV
Are you hoping to watch a holiday parade? Maybe you're hoping to catch a football or basketball game? If so, our lounge will accommodate you. Lined with an array of HDTVs, we show everything from sporting events to parades to TV shows to movies and more. Whatever your group is interested in watching, you'll be able to watch it here.
Make an Event of It
Are you hoping to celebrate with a little more structure? Looking for some activities to enjoy as you celebrate? If so, look no further than Classic Bowl. As the premier party venue and they Wilmette, Illinois area, we have some fun activities for your group to enjoy. These activities include:
Bowling
Our facility is, after all, a bowling alley. As such, it should come as no surprise that bowling is one of our main attractions. Our facility contains plenty of state-of-the-art bowling lanes, each of which have automatic scoring machines and bumper capabilities for those who are under the age of eight. Whether you're new to bowling or have been doing it for years, you're sure to have a great time bowling a few frames at Classic Bowl.
Video Gaming
If you get tired of bowling, or if bowling was never really your thing to begin with, you could head on over to our lounge and partake in some video gaming. We have video gaming options for our guests that are over the age of 21. Regardless of your video gaming preferences, you and your group are sure to have a great time.
Billiards
Our facility has pool tables as well. So, if you're in the mood for a few games of billiards, ours is the place to be. Regardless of whether you're playing competitively or recreationally, you're certain to have a good experience.
Come to Classic Bowl: The Premier Party Venue in the Wilmette, Illinois Area
Are you interested in going out and celebrating the holidays this year? If so, and if you want to gather at the premier party venue in the Wilmette, Illinois area, Classic Bowl is the perfect location. Whether you're hoping to organize a formal event or a last-minute gathering, we would be more than happy to accommodate you.
Contact us today at (847) 965-5300 to make it official.