26 Aug

Watch College Football Games at Classic Bowl This Fall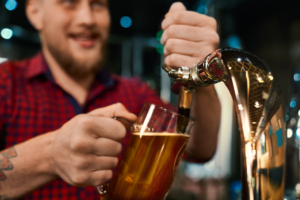 Are you desperately awaiting the college football season? Do you need a great place to watch some games this fall? If so, and if you live in the Morton Grove area, you should stop by Classic Bowl—the area's premier bowling alley and entertainment center!
Our facility not only offers an array of HDTVS for you to watch the games, but a variety of other activities to enjoy as well. Read below to find out what Classic Bowl has to offer.
Get the Necessities in Our Lounge
Watching a football game isn't just about watching a football game. It's about kicking back, having a good time, and cheering on your team. Of course, this is much more enjoyable with food and drinks!
That's where our lounge comes in. Offering ample food and drink at all times, it's the ultimate spot to take in a game.
Affordable Drinks
Whether you stop in on a Thursday, a Saturday, or some other day throughout the week, you will have ample drink specials available to you. These specials cover everything from domestic beer, to imported beer, to craft beer, to liquor drinks and more. Regardless of your tastes, you'll be able to drink without running up an enormous bill.
Plentiful Food
Our food is served by our top-notch in-house restaurant, Boba Burger. Whether you're looking for an appetizer, an entrée, a side, or a dessert, Boba Burger will be able to accommodate you.
An Array of TVs
Coming to Classic Bowl to catch a game doesn't limit you to just one game. It allows you to take in a variety of games simultaneously. With an array of HDTVs positioned throughout our facility, you'll be able to watch football games of the local, regional, and national variety.
Take in the Exciting Atmosphere
Are you looking for a lively viewing experience? Classic Bowl can deliver just that. Our facility is characterized by an exciting and lively atmosphere. It's bound to get your adrenaline pumping for the game.
Heighten the Experience with a Range of Activities
There's nothing wrong with sitting down and watching a football game. However, we understand that it's not everyone's cup of tea. Some of those among us would prefer to heighten the experience with other activities. Fortunately, our facility can accommodate these individuals, offering up a range of activities.
Bowling
Perhaps you'd like to roll a few frames during halftime of the game? If so, we'd be happy to reserve a lane for you. Or, if you prefer to bowl during the game, you can roll your frame then tune in for the next down.
Video Gaming
Looking for a way to spend time between quarters? Why not enjoy some of the video gaming that we have located throughout our lounge? Regardless of your age, we're sure to have a video game that you'll enjoy.
Pool
There are few games more compatible with watching football than playing billiards. Due to the amount of downtime associated with billiards, it will allow you to catch all the big moments of your football game.
Come Catch the Game at Classic Bowl!
Whether it's on a Thursday, a Saturday, or otherwise, if you're looking to watch a college football game, you can do it here at Classic Bowl. We look forward to seeing you here.
We're located at 8530 Waukegan Road, Morton Grove, Illinois 60053 and are open from 9:00 AM to 2:00 AM on Sundays through Fridays, and from 9:00 AM to 3:00 AM on Saturdays.
Any questions? Contact us now or call us at (847) 965-5300!