26 Jun

Have Some Fun with Your Coworkers at Classic Bowl: The Best Work Party Venue in the Park Ridge, Illinois Area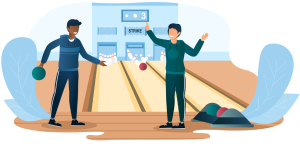 Has work been wearing you down lately? Are you looking to have some fun with your coworkers outside of the workplace? If so, you should consider stopping by Classic Bowl for an afternoon or an evening of fun.
As the best work party venue in the Park Ridge, Illinois area, our facility is sure to have something that you and your coworkers will enjoy. Are you interested in learning more about what we have to offer? We are going to discuss below.
Lay Low in Our Lounge
Are you looking to keep things laid-back? If so, you should stop by our lounge. It offers a wide variety of features and activities for large groups to enjoy. You can do the following in our lounge:
Enjoy Some Food
Looking to order a meal? Maybe you're just looking for a light snack? In any case, our in-house restaurant, Boba Burger, has you covered. It offers a varied menu of foods — from hamburgers to fries to chicken tenders and more. Whether you want a full meal or just a quick bite to eat, you can order it and bring it back to our lounge to enjoy.
Grab a Drink
Not only can you grab a bite to eat, but you can also have a few drinks. Our in-lounge bar serves everything from domestic beers to imported beers to craft beers to liquor beverages and more. Regardless of you and your coworkers' drink preferences, we're sure to have something that accommodates you.
Watch Some TV
Looking for something to keep your group occupied while you relax? Hoping for something to stimulate conversation? If so, our HDTVs can accommodate you. We can turn on any program you'd like to see — from sporting events to TV shows to movies to the news to the weather and more. Regardless of your viewing preferences, we have you covered.
Engage in a Variety of Activities
Hoping to have a lively experience with your coworkers? As the best work party venue in the Park Ridge, Illinois area, we offer a variety of fun activities at our facility. These include the following:
Bowling
Our state-of-the-art bowling facility has 38 bowling lanes for our guests to utilize. Each of these lanes is equipped with an automatic scoring computer to make things quick and easy. Whether you're a seasoned bowler or are bowling for the first time, you're sure to have a great time here.
Don't forget to contact us ahead of time to reserve your lanes.
Shooting Some Pool
Not only do we have a series of bowling lanes for you to utilize, but we also have an array of billiards tables as well. We have a billiards area located inside our facility, and our tables are open to both competitive and recreational players.
Engaging in Some Video Gaming
If you're not into bowling or pool, or if you're just looking to switch things up a bit, you can participate in some video gaming. We have a variety of video gaming options available in our lounge area for those who are 18 and older.
Looking for the Best Work Party Venue in the Park Ridge, Illinois Area?
Are you ready to have a fun outing with your coworkers? Looking to meet at the best work party venue in the Park Ridge, Illinois area? If so, Classic Bowl is the top choice. Regardless of your group size or preferences, we are here to accommodate your wishes.
Contact us today at (847) 965-5300 to begin planning your event.